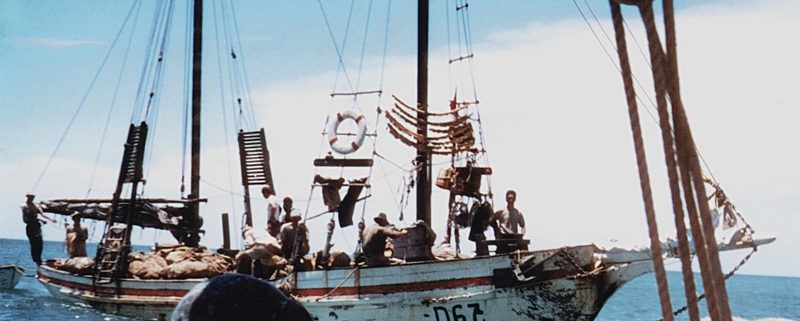 Redbill was built in 1903 at Fremantle as a pearling lugger by Frederick Parkes, Herbert Parkes and Arthur Harding. She began her pearling career in Broome and a couple of years later she became the sole property of the Parkes brothers.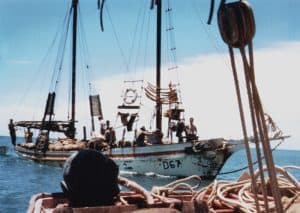 Photo: Redbill loaded with pearl shell taken from Editha
In June 1919 Redbill became a part of, the well-known pearler, Captain Gregory's fleet. Captain Gregory was well known for his use of Asian and especially Japanese as crew, divers and shipwrights.
Gregory went to Darwin in early 1929 to set up pearling operations there. A first wave of his ships left Broome for Darwin at the same time and 2 were lost in a storm on the journey, including one with all hands. Redbill had stayed back at Broome and was itself rebuilt in late 1929 before setting sail for Darwin late in November 1929.
Redbill was still in Darwin at the start of WWII, when Japan attacked Pearl Harbour and in the harbour for the bombing of Darwin. Gregory offered Redbill and other luggers to the RAN in December 1941 and she was commissioned as HMAS Redbill in June 1942.
Along with another vessel she was used as an advanced warning station by sailing north from Darwin. She had been equipped with wireless and guns. Other tasks included reconnaissance of the northern coastline and retrieving people stranded on Melville Island. Eventually she and the other luggers were deemed not suitable and surplus to use as the Navy acquired new power boats. After that she was left on the mud flaps for about two years until after the war when a Darwin salvage diver, Carl Atkinson bought Redbill from the Navy for £70.
About nine years after the war she was bought by Dick Sonners and returned to pearl diving around the north coast of Australia. Over the next few years she was Top Boat of the Darwin fleet two years in a row.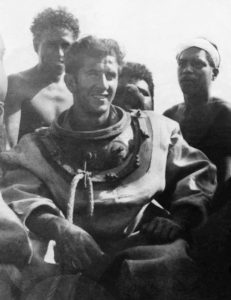 Photo: Dick Sonners
In April 1957 Sonners took her to Samarai in New Guinea to try his luck diving there. The boat had seven crew and Dick as the diver. In addition to diving he went croc hunting and sailed the rivers of New Guinea.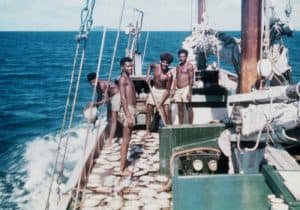 Photo: Pearl Shelling in PNG
By 1963 Sonners had had enough of diving and moved to North Queensland. Redbill passed to Murray Marx who wanted to use her to ferry supplies along the rivers and to the islands of the eastern tip of New Guinea. Then in August 1965 she was taken over by Keith Briggs who was a missionary and continued to use her for the same purposes.
Gerry Holmes bought her cheaply in 1978 when she was stuck on the slipway at Kawito. After freeing her from the slips and getting her towed down the river to Daru he had her towed to Thursday Island. Holmes spent several years restoring her and using her as a pleasure yacht. Then Holmes moved to Cairns and used her for salvage diving.
In 1988 Holmes sold Rebill to Peter Malcolm and partner Wizz who had been involved in Greenpeace. They sailed her to Tasmania making stops at Brisbane, Sydney and other places. A little over a month after arriving in Tasmania they set off back to Sydney. While in Sydney Redbill featured in a promotion for a TV series called Turtle Run and sailed around Sydney with helmets and piles of pearl shell to be filmed. In Sydney she was chartered to Greenpeace and with Malcolm took part in the Clean Waters Campaign including protests against pollution by Caltex, BHP and others. Later she went on a long trip around the Pacific Islands to raise awareness of pollution in those areas.
Next she was used to make a documentary about young people at risk. The idea was to take them on a long sea voyage away from the bad influences in their lives.
In 1999 Malcolm sold the boat to the Rigney family who intended to use her for tourism in Broome. Malcolm made his last trip sailing her back to Broome.
Unfortunately she was lost in a cyclone in Broome on the night of the 19th – 20th April 2000.
This information was taken from the book "Redbill – From Pearls to Peace – The Life and Times of a Remarkable Lugger" by Kate Lance.
For further information see:
https://www.historicaldivingsociety.com.au/wp-content/uploads/2018/04/Redbill-from-Editha.jpg
567
800
Allan Kessler
http://www.historicaldivingsociety.com.au/wp-content/uploads/2016/11/HistoricalDivingSocietyLogo2.png
Allan Kessler
2018-04-10 21:16:05
2018-04-10 21:26:37
Redbill - a pearling lugger