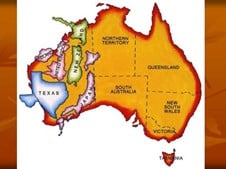 ANNUAL GENERAL MEETING – 28 + 29 October 2023 – WESTERN AUSTRALIA
Never been to the West? Need a break and want clear sunny skies and perfect beaches. Enjoy visiting vineyards or have a selfie with a Quokka.
Then we have it all waiting for you.
The 2023 HDS Aus-Pac AGM venue will be in the Fremantle area which is also serviced by train from Perth city. If you just come for a few days then Fremantle has more than enough to fill your time. Maybe also squeeze in a day trip to Rottnest Island (home of the Quokka).
Western Australia is a state occupying the entire western third of Australia. It is bounded by the Indian Ocean to the north and west, the Great Australian Bight and Southern Ocean to the south. https://www.tourism.wa.gov.au/
For visitors with more time why not go outside Perth. There is an abundance of places to go. The South West corner of the state has amazing places including about five wine districts. Margaret River Wine district being one. Welcome To The Margaret River Region
· Fremantle is a major Australian port city in Western Australia, located at the mouth of the Swan River. Fremantle Harbour serves as the port of Perth, the state capital. Fremantle was the first area settled by the Swan River colonists in 1829. https://visitfremantle.com.au
There are also some interesting walks around Fremantle: https://www.fremantle.wa.gov.au/visit/getting-around/walking
Fremantle Activities – 36 Suggested Activities | Visit A City
Western Australian Maritime Museum:
Perched on the Indian Ocean's shore, the Western Australian Maritime Museum is symbolic of Fremantle's past, present and future as a coastal city and port.
The Museum houses several unique galleries that explore WA's relationship with the sea. From leisure boats and handcrafted sailing boats to commercial pearl luggers, the Museum inspires visitors to discover WA's affinity with the ocean.
The Museum is home to the winning America's Cup yacht, Australia II, an Oberon class submarine — HMAS Ovens, Jon Sanders' Parry Endeavour and many other iconic vessels from WA's maritime history. http://museum.wa.gov.au/museums/maritime  Open 0930 – 1700hrs 7 days a week Closed some major public holidays
Western Australian Museum – Shipwreck Galleries
The Western Australian Museum — Shipwreck Galleries is recognised as the foremost maritime archaeology museum in the southern hemisphere.
The Museum is housed in 1850s-era Commissariat building and has since been restored to its historic glory. Steeped in history, the galleries house hundreds of relics from ships wrecked along WA's treacherous coastline, including the original timbers from the Batavia (wrecked in 1629), the de Vlamingh plate, and also countless artefacts from the Dutch shipwrecks Zuytdorp, Zeewijk and Vergulde Draeck. www.museum.wa.gov.au/museums/shipwrecks Open 0930 – 1700hrs 7 days a week Free entry ($5 suggested donation) Closed some major public holidays
Rottnest Island:
Rottnest Island sits just offshore from the city of Perth, in Western Australia. A protected nature reserve, it's home to the quokka, a small wallaby-like marsupial. White-sand beaches and secluded coves include the Basin, with its shallow waters, and Thomson Bay, the main hub and ferry port. Strickland Bay is known for its surf breaks, while reef breaks occur at Radar Reef, off the island's far western tip.  https://www.rottnestisland.com/
Swan River cruises can take you between the city and Fremantle or a day trip to the famous Swan Valley wine region. http://www.experienceperth.com/ http://www.viator.com/Perth-tours/Cruises-Sailing-and-Water-Tours/d389-g3?pref=02&aid=g6112
Kings Park overlooking Perth is a perfect place for photographers wanting a lovely view of the city as well as being a mecca for wild flower lovers. http://www.bgpa.wa.gov.au/kings-park/events/festival
Nice Bars in Fremantle:
Pirate Theme: Darling Darling 1/36 Henry Street, Fremantle.
Navy Theme: The Navy Club 64 High Street, Fremantle
Jungle Theme: Jungle Bird Rum Bar 59 High, Street Fremantle
Gage Road Brewery, Matilda Bay Brewery and Little Creatures Brewery + more.
Plus plenty of Restaurants and Accomodation.
Latest update is that we will have lunch in Fremantle on Saturday 28th then go to WA Shipwreck Museum (3 minutes' walk) for AGM.
They have allowed us to use their board room (Thanks to Pat)
After AGM Pat will conduct tour of museum.
Looking at local place for dinner. There are dozens within 5 minutes' walk.
Sunday we will arrange for those at AGM who wish to visit Pat's house to see his camera museum. We can shuttle people over if needed – 5-minute drive.
There are plenty of things to do in the Freo area as well and I will outline on the Saturday.
If you have read this far then hopefully you are interested in coming over. I would appreciate if you could advise if you are coming so we can look for the right venues. I can also give you some options regarding accommodation depending on how long you want to stay.
Peter McMahon
Kind Regards
Peter McMahon
AGM Western Australia – Coordinator
Hon Treasurer/Membership Officer
Historical Diving Society Australia-Pacific (HDS Aus-Pac)
P.O. BOX 347, Dingley Village, Victoria, 3172 AUSTRALIA