Classic Diver
Our journal Classic Diver is published four times a year. We also organise and encourage educational displays, research, historical walks, film nights, bibliophile meetings and the preservation of historical diving equipment and ephemera.
2006
Number 39 – Spring 2006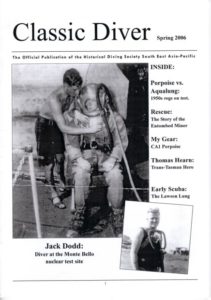 News … Events… Happenings
Clearance Divers Reunion
Testing the Porpoise
Thomas Hearn: Trans Tasman Hero
Jack Dodd: Diver at Monte Bello
RESCUE:  The Entombed Miner
MY GEAR:  CA1 Porpoise
IN MEMORY :WalGibbins
EARLY SCUBA: Lawson Lung
The Book Collector
Diving Technology
Number 40 – Summer 2006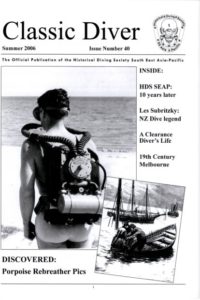 News … Events….Happenings
HDS SEAP: 10 Years On
Les Subritzky:  NZ Dive Legend
Maquay Lifting Device
Porpoise Rebreather
A Clearance Diver's Life
The Book Collector
International Societies
Underwater Ads
2007
Number 41 – Autumn 2007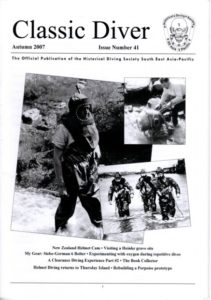 News … events … happenings…
Letters to the Editor
Helmet Diving returns to T1
Rebuliding a Porpoise Prototype
They're still out there
Heinke grave visit
Helment Cam
Siebe Gorman 6 bolter
Remembering Bill Young
A Clearance Diving Experience
Experimenting with Oxygen
The Book Collector
Number 42- Winter 2007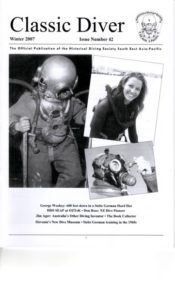 News … event … happenings
Members Helping Members
Don Ross:  NZ Dive Pioneer
Australia's Other Diving Inventor
100 Fathoms Down
HDS DEAP at OZTek
Vinntage Gear Prices
Myster Mask Revealed
Slovenia's Diving Museum
The Book Collector
Siebe Gorman Training in the '60s
Number 43 – Spring 2007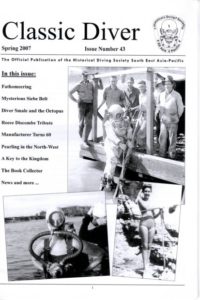 Fathomeering
Mysterious Siebe Belt
Diver Smale and the Octopus
Reece Discombe Tribute
Manufacturer Turns 60
Pearling in the Nreth-West
A Key to the Kingdom
The Book Collector
News and more..
Number 44 – Summer 2007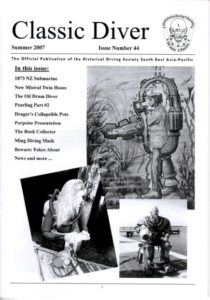 1873 NZ Submarine
New Mistral Twin Hoses
The Oil Drum Diver
Pearling Part #2
Drager's Collapsible Pots
Popoise Presentation
The Book Collector
Ming Diving Mask
Beware: Fakes About
News and more…
2008
Number 45 – Autumn 2008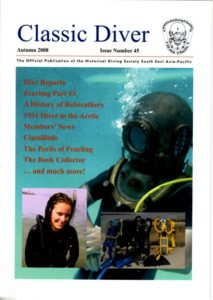 News … events … happenings..
Drafer Pressure Bag
Dive Reports
Perils of Pearling
History of Rebreathers
Pearling Part #3
Frank Crilley – Arctic Diver
Classifieds
Firefighting and Diving
The Book Collector
Number 46 – Winter 2008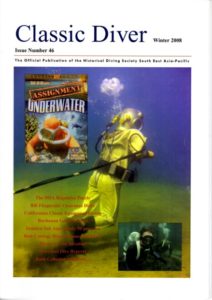 Our new equipment policy
News and events
Ted Eldred Awards
Dive Reports and Events
MSA Regulator Puzzle
Clearance Diver Bill Fitzgerald
Californian Classic Equipment Diving
Buchanan Gordon Dress
Jamaica Sub Aqua Club
Number 47 – Spring 2008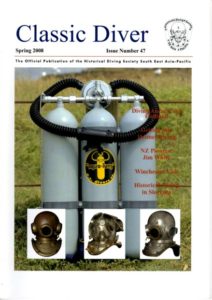 News, Private Dive Reports, Events
A Visit to Winchester Cathedral
Jim White and the White Regulator
First Slovenian Ladies in Diving
Become a Classic Diver
Chum Magazine 1898: Training Divers
The Book Collector
Members' Classifieds
Diving Anzac Cove
Number 48 – Summer 2008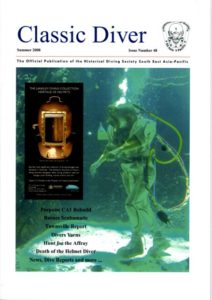 Jumping in the Deep End
News
Ted Eldred Award
Private Dive Reports
Ted Eldred: The Early Years
Porposise CA Rebuild
Counterstike
Townsville Rally
The Book Collector
Vale:  Morris Simon
Barnes Scubamatic
Subsunk
Smoke Helmets Comeback
A Premature Death
Drivers yarns
Free Classifieds
2009
Number 49 – Autumn 2009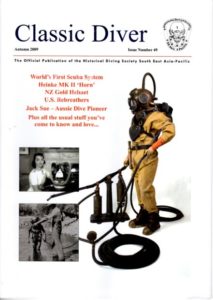 Jumping in the Deep End
News
Counterstike
First Scuba System
Charles Edward NS Gold diver
Heinke MKII (Horn)
Recollections of the 70's
U.S. Rebreathers of the 50s
A Day I'll Always Remember
Jack Sue:  Aussie Dive Pioneer
Book Collector
Free Classifieds
Number 50 – Winter 2009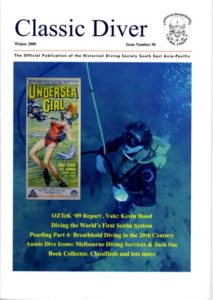 Jumping in the Deep End
News
Vale: Kevin Hood
Diving the 19th Century RD
OzTek '09 Report
The Way we Were
Book Collector
Naked Diving in the 20th Century
Melbourne Diving Services
Jack Sue
Classified
Divers Yarns
Number 51 – Spring 2009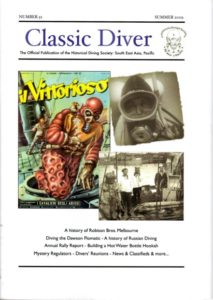 Jumping in the Deep End
News
Australia's Augustus Siebe Helmet
URG: The Early Years
NAUI Dress Diving Course
Victoria's Ships Graveyard
VALE Max Shean
100 y.o Dive Manual
Visionaire Rebuild
Classified
The Final Word
Number 52 – Summer 2009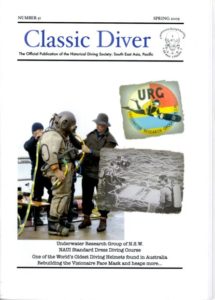 Jumping in the Deep End
News from the Deep
AGM and Rally
European Vacation
Jeff Hakko Collection
WA Divers Reunion
USFA/AUF Reunion
Diving the Dawson Flomatic
A History of Russian Diving
Hot Water Bottle Hookah
Robison Bros. & Co.
Identifying Regs from A-Z
A Diver's Photo Album
Oldest Recreational Dive Club
Members' List
Free Classifieds
2010
Number 53 – Autumn 2010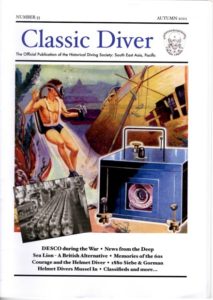 Jumping in the Deep End
News from the Deep
Helmet Divers Mussel In
Courage and the Helmet Diver
DescoDuring the War
Sea Lion – A British Alternative
Circa 1880 Siebe & Gorman
Memories of the 60s
William May – 19th Century Diver
Free Classifieds
Number 54 – Winter 2010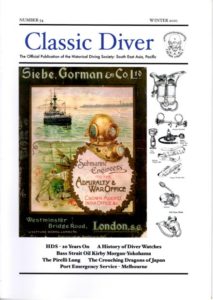 Jumping in the Deep End
News from the Deep
HDS – 20 Years On
Diving History in Darwin
Deep, Dark and Dangerous
Kirby Morgan-Yokohama
Port Emergency Service – Melb.
A History of Dive Watches
The Pirelli Lung
Crouching Dragons of Japan
John Lethbridge Monograph
A Final Word
Free Classifieds
Number 55 – Spring 2010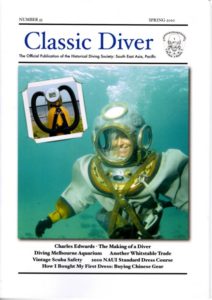 Jumping in the Deep End
News from the Deep
Professional Diving Services
Charles Edwards
Diving Melbourne Aquarium
Another Whitstable Trade
Vintage Scuba Safety
2010 NAUI Standard Dress Course
How I Bought My First Dress
Buying Chinese Gear
The Book Collector
Classifieds
Number 56 – Summer 2010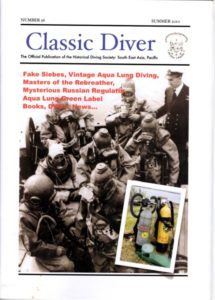 Jumping in the Deep End
News from the Deep
2011 AGM
A Dream Come True
Lost Bullion Box
Russian regulator
Thought Bubbles
Dressing Up: W.A.
Dressing Up: NZ
Collecting Early Aqua Lungs
Aqua Lung Green Label
Fake Siebes
Pearl Shellers DVD
Masters of the Rebreather
New Publications
The Book collector
Classifieds
2011
Number 57 – Autumn 2011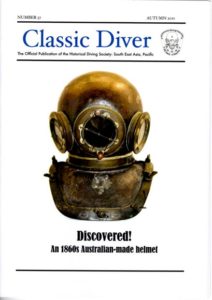 News from the Deep
Summer Lovin'
WA Dive Day
19th Century Australian Helmet
Ivor Howitt wins award
The Masked Man
A history of the dive flag
The Low Isles Helmet
Helmets… and more helmets
Classifieds
Number 58 – Winter 2011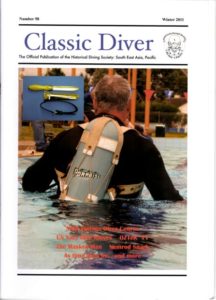 Jumping in the Deep End
News from the Deep
Recollections of a Pearl Diver
OZTeK '11
Secretary's News
Vintage Scuba Course
US Navy Standard Divers Knife
Underwater 3D Photography
The Masked Man
Nemrod Snark
As time goes by…
Classifieds
Number 59 – Spring 2011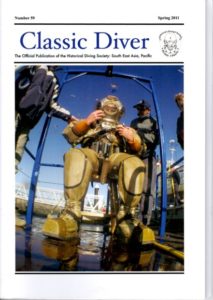 Jumping in the Deep End
News from the Deep
HDS UK Unveils its Museum
Belting Up
NAUI Standard Dress Course 2011
The Elingamite Treasure Divers
Mystery Helmet
National Technical Museum – Prague
Smith's Rock Strikes
Sea Hunt Anniversary Dive
Dave Quinlan's BC
Lake Marx Historical Gathering
Aussie Pioneer – Dick Charles
As Time Goes By – Cathy Deane
Diving the TOA
The Masked Man
Military Support for Porpoise
Making an Icon – US Navy Mk V
Classifieds
Number 60 – Summer 2011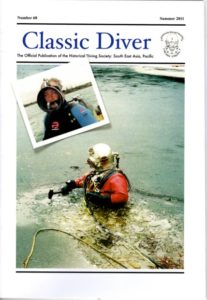 President's Message
News from the Deep
2011 Annual General Meeting
Secretary's Report
2011 Ted Eldred Award
Shipwreck Museum Visit
Broome W.A.
The Helmet That Got Away
Classic Scuba Workshop
Buying a DESCO Mark V
So you want to dive a Mark V?
As time goes by…
The Masked Man
Vintage Scuba Guy
The Book Collector
Inside Back Cover: Classifieds
2012
Number 61 – Autumn 2012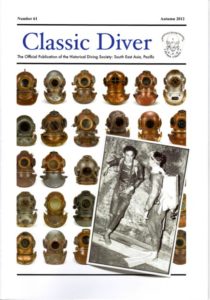 Jumping in the Deep End
News from the Deep
Portarlington Mussel Festival
Military Barracks Turns 200
History of Diving Museum
Diving Under the Iron Curtain
A German Frogman Downunder
The Mysterious Rebreather
Cave Diving, Wellington (1957)
Scuba Guy
The Book Collector
Garden State Recovery Unit
Inside Back Cover: Classifieds
Number 62 – Winter 2012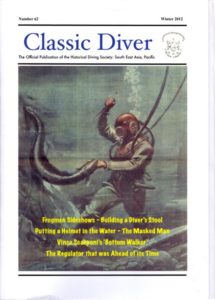 News from the deep
Giant Diver Commemorates 100th Anniversary of the "Titanic: sinking
The Frogmen Show
A Regulator Ahead of its Time
The Masked Man
Making a Diver's Stool
Search for the Holy Grail of Dive Books
Putting a Hat in the Water
Bottom Walker
Number 63 – Spring 2012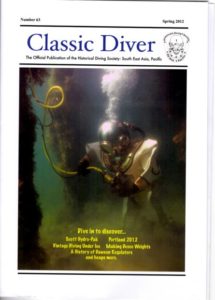 News from the deep
The Masked Man
Making a Diver's Stool
DESCO Lead Mold Project
Killing Time in England – Looking into history
Vintage Scuba – Modern Setting
Breaking the Ice
Portland 2012
Dawson's Regulators
Dive Australia – A Handbook for Scuba Divers
Book Review – Redbill:  The Life and Times of a Remarkable Lugger
Book Review – Brutnall's Follies
Number 64 – Summer 2012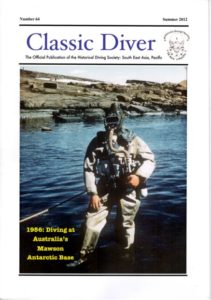 HDS SEAP 2012 AGM
News from the Deep
The Art of Diving
2012 Ted Eldred Award
Vale Kent "Rocky" Rockwell
Professional Dive Services Vintage Pool Dive
Way Out West – Western Australian News with Peter McMahon
The Masked Man
Steve's Top 10 – Tips for Vintage Scuba
DESCO's Tung Feng Project
Breaking the Ice Part 2
Earl Mountbatten and the Porpoise
Retired Commercial Diver: Dick Florio
Diving Into the Movies
2013
Number 65 – Autumn 2013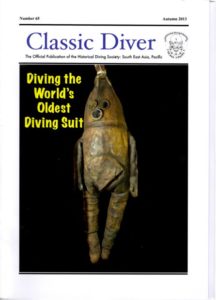 Wrecks of War
News from the deep
New Year's Day Dive 2013
The Old Gentleman of Raahe
Restoring RegSprigg's Five Chambers
The Masked Man – Admiralty pattern Full Face Mask
The Great Weight Experiment
Vale: Ron Taylor
Able Seaman John (Jack) Gabriel Driver II, RAN
Standard Dress: Anything but Standard
Number 66 – Winter 2013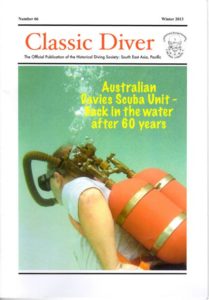 News from the Deep
Visit to United Sterling and Maritime Museum in Hong Kong
Wrecks of War Book Launch
HDS SEAP Assists HMAS Melbourne Exhibition
Rolleimarin
HDS SEAP @ OZTeK 2013
RAN Re-enactment Dive at Chowder Bay
Davies Scuba Unit: 60 Years Later
TOA Helmets
DESCO's Light Project
The Masked Man
Number 67 – Spring 2013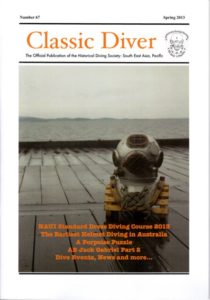 Diver's Weights Surface on the Murray River
Back to the Elingamite
Early Porpoise Comes to the Surface
A Porpoise Puzzle
NAUI Standard Dress Diving Course 2013
7th International Vintage Divers Meeting
Vale Jim Ager
Ghosts of Helmets Past
Mark V Winter Dive
Diving for Charity in WA
Able Seaman John (Jack) Gabriel, Diver II, RAN, Part 2
Number 68 – Summer 2013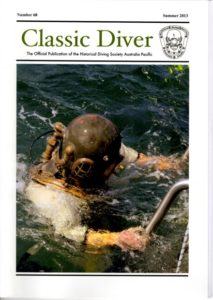 News from the deep
Our 2013 AGM
South Australia News
Way Out West
HDS Aus-Pac Members Visit Australia
Sydney Vintage Diving Group
Photo and Article on Spear-fishermen, including member Ivor Howitt, searching for drowned man in 1950s
HDS Aus-Pac Display at Mount Gambier
Vintage Diving in Finland
HDS Aus-Pac Visit Police Divers
Drum Divers of the Pacific
Another Early Aussie Regulator
A Custom Commercial Helmet
New Helmet Diving Air Control Panel
2014
Number 69 – Autumn 2014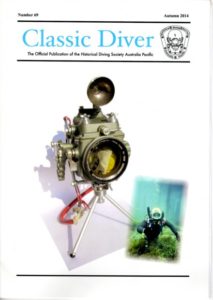 AGM Notice
President's Corner
News from the Deep
Western Australia News
Peter's pool Diving Extravaganza
Return of the Creature from the
Black Lagoon
Diver John "Jack" Martin
The Masked Man – Scubapro Modern Full Face Mask
Hans Hass Transporter Box
My Siebe Gorman Single Cylinder Pump
Porpoise Rebuilds
A Unique Helmet
Brewery Research
Number 70 – Winter 2014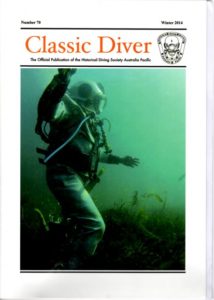 Notice of AGM
President's Corner
News from the Deep
More Alcoholic Decompression by Phil and Jane Thurtle
Standard Dress Diving Kit Spares
HDS Poland Researches Klingert Diving Apparatus
Call for Nominations – Ted Eldred Award
Notes from our Treasurer ? membership Secretary
2014 HDS Aus-Pac Rally / AGM
Free Membership Renewal Raffle
Extra HDS Aus-Pac Lapel Badges
Ted Eldred Award Recipients
Photo of Tony Colochino sent in by Ivor Howitt
Photo of Keith Gordon at Tec-Fest New Zealand with new HDS Aus-Pac banner
Vale Jiri Trpik – President HDS Czech Republic
HDS Aus-Pac visits Prince of Wales Hospital Hyperbaric Unit, NSW, by Phil McGowen
St Leonards Pier, Victoria 29th December 2013 by Mark Ryan
HDS Aus-Pac Dive Day at Nelson Bay, NSW
Portland 2014 by Cathy Deane and Phil McGowen
Queens' Birthday Weekend Diving in Tasmania by Simon Lessels
Sea Bee is Alive and Well by Peter McMahon
A Rare Find (Mares Air King) by Peter McMahon
Saturation Diving: Gulf of Mexico 1969 – The Daniel Boone Accident by Mike Cooke
DESCO Helmet Diving Light by Steve Taylor
Bill Heffernan – Pioneer Spearfisher by Mel Brown
Siebe Gorman 12 Bolt Helmet by Phil McGowen
VEB Medizintechnik Leipzig – a German Story by Dr. Lothar Sevek
HDS Aus-Pac and Ted Eldred's Legacy by Steve Taylor
Mystery HDS Aus-Pac Member by Des Williams
Insert – HDS Aus-Pac Membership Renewal Form and Renewal Prize Information
Number 71 – Spring 2014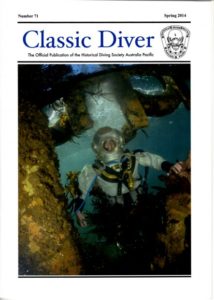 Notice of AGM
Beneath the Waves
New advertisement for Dive Log
"Japanese Diver Dies" from Brisbane Courier Mail 24th January 1935
100 Years Ago this Month (AE1)
Niagara Diving Chamber Replica (from NZ)
Albury Rally, AGM & Swap Meet
A Visit to HDS Czech Republic by Ludvik Farka
Raffle Winners
HDS Aus-Pac Gear
Streeters Divers Ale
8th International Historical Divers' Meeting by Franz Rothbrust
Diving Under Ice by Vince Scarponi
Making the Dream Come True by Ken Wheaton
The Diver and the Devil-Fish by Captain Des Williams
Twin Hose Scuba is Back by Steve Taylor
Perils of War – The Life of a Diver by Garry Luxton
AMA: Women of the Sea
Diving Myths by Steve Taylor
Treasure Down Below game
Number 72 – Summer 2014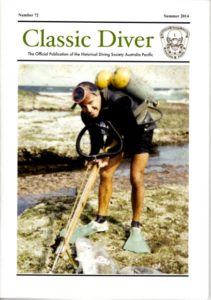 International Legends of Diving by Peter Stone
Out & About by Des Williams
Portland Rally and NAUI Standard Dress Course Advertisement
Catalina Flying Boat Festival report by Allan Kessler
HDS Aus-Pac Appreciation Awards
From the Newspaper Archives:
• A Punt Capsize, A diver's Peril, Narrow Escape of occupants
• Gruesome Find, Skeleton Underwater, Diver's Experience
• Remarkable Diving, Depth of 45 fathoms, New Suit Successful
The Swimming Pogo Stick
2014 Ted Eldred Award to Jeff Maynard
HDS Aus-Pac 2014 Annual General Meeting report by Cathy Deane
Siebe Gorman Torches 1935 – 1969 by Phil McGowen
The Lawson Lung Part 1 by Tony Gregory
King of the Coral Sea movie poster
Australia's 1860 Submarine by Des Williams with Keith Gordon
The Silent Front by Paul Schenk book review by Peter Stone
Early Czech Diving Ideas by Peter Katz
Remembering Rocky by Tony Gregory
2015
Number 73 – Autumn 2015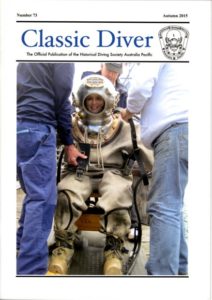 President's Corner
Portland Rally and NAUI Standard Dress Course Advertisement
Mel Brown AM
Lotte Hass from HDS Germany
Summer Diving Wrap Up
A Giant Weekend in Perth
Undaunted – From Clearance Diver to Mercenary by Hugh O'Brien book review by Allan Kessler
Phil & Jane Thurtle, HDS UK, eet Keith Gordon, HDS Aus-Pac in Whangarei
Diving Library Donation by Simon Lessels
Noel Monkman – Diver and Scientist by Des Williams
Restoring Diving Cylinders by Tony Gregory
Rouse Diving Improver by Des Williams
John Blake: Diver by Allan Kessler
The Lawson Lung Part 2 by Tony Gregory
Helmet Divers' Underwear by Steve Taylor
Number 74 – Winter 2015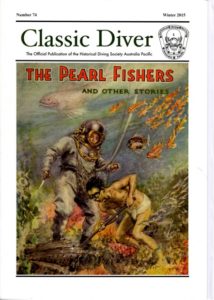 Portland Rally and NAUI Standard Dress Course Advertisement
President's Corner
New HDS Aus-Pac Cloth Badges
Cylinder Refurbishments – follow up note by Tony Gregory
HDS UK Visitors to Oz
Hans Hass Downunder
SMS Emden Diving Helmet by Des Williams
Western Australia Heritage Festival April 2015 by Peter McMahon
RAN Clearance Diver (Ret'd) Standard Dress Diving in WA by Peter McMahon
HDS Aus-Pac at OZTeK 2015 by Des Williams
The Birth of Cave Diving in Australia by Rod O'Brien
Buying a Dress by Steve Taylor
Carlo Filippetti  by Allan Kessler
A Visit to Low Head, Tasmania by Peter McMahon
The Lawson Lung Part 3 by Tony Gregory
Did You Know? By Des Williams
Number 75 – Spring 2015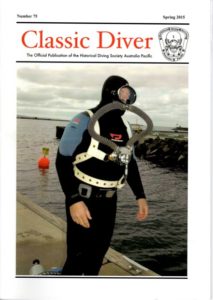 Notice of 2015 AGM
President's Corner
Happy 25th Birthday HDS UK by Des Williams
Photographer Opens a Deep Sea Business from the Sydney Morning Herald 2 June 1951 via Mel Brown
Appreciation Award – Web Master, Peter Stone
Dive Log cover features James McFarland in standard dress
For Sale: Scott Hydropak
Portland Rally 2015 report by Cathy Deane, photos James McFarland
Klingert's Submarine by Karina Kowalska
Vale Bruce Thompson by Cathy Deane
Book Review: The Divinhood by Peter Jackson from Allan Kessler
Surviving My First Hard Hat Dive by Larry McLean
An Ex Garden Ornament by Des Williams
The Jack Wong Sue Auction by Peter McMahon
Siebe Gorman 1952 Underwater Lamp by Phil McGowen
Number 76 – Summer 2015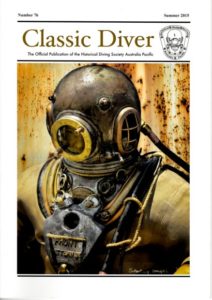 Portland Rally and NAUI Standard Dress Course Advertisement
President's Report 2015
The Unseen ANZAC book review by Des Williams
Another Working Helmet Set in NSW
HDS Aus-Pac 2015 Annual General Meeting report
United and Undaunted – the First 100 Years – advertisement
Heinke's Darnley Pump compilation from Des Williams, Dr John Bevan and Jeff Maynard
Restoring a Diving Pump Part 1 by Steve Taylor
A Visit to DESCO Corporation, Milwaukee, USA by Peter McMahon
Exploring Deep Water graphic sent in by Phil Thurtle
Photo Funnies competition
The Clifford Death Trap by Des Williams
TECO: The Thompson Engineering Co. Shallow Water Diving Mask by Robert Graham
Early DESCO MKV by Brian Tasker
Diving Memorabilia by Cathy Deane
2016
Number 77 – Autumn 2016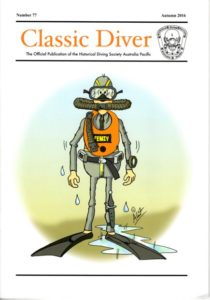 Portland Rally and NAUI Standard Dress Course Advertisement
International Historical Divers Meeting of 11 – 12 June notice
Frank Zeigler wins Photo Funnies caption competition
Advertisement for sale of Siebe Gorman gear by United Divers
Deep Tea Diver – Des Williams shows his deep sea tea infuser
Katz Annual Dive Day by Allan Kessler
NZ Navy Divers Reunion by Keith Gordon
2016 Mussel Festival, Port Arlington, Victoria by Steve Taylor
New Year's Day Dive by Steve Taylor
Diving Day at Port Stephens by Allan Kessler
The SS Tyrone Helmet Mystery by Keith Gordon
Restoring a Diving Pump Part 2 by Steve Taylor
A Graveyard Visit by Des Williams
George Haritos: Darwin Pearler by Helen Haritos
A.J. Morse & Sons, Milwaukee, Wisconsin by Steve Taylor
Number 78 – Winter 2016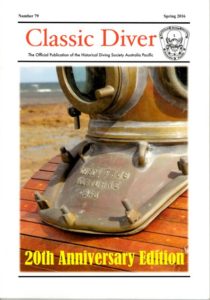 Notice of AGM and Conference
Important Message re end of Credit Card Facility
Sea Bee by AirDive Help Wanted by Peter McMahon
Vale Bob Campbell by Des Williams
Western Australian Annual May Dive by Peter McMahon
Pearls and Politics from A Pearl in Plane by Basil hall from Walkabout Magazine, 1 November 1957 found by Peter Stone
Another Graveyard Visit by Des Williams
Siebe Gorman Mine Recovery Suite – A New Zealand Find by Keith Gordon
Contriving Diving by Ivor Howitt
Soviet Submarine Escape Gear by Robert Graham
Pictures from Australian Pix magazine 29 March 1941 and 26 April 1941 submitted by Peter Stone
The Other World by Edward du Cros from Australian Skindivers Magazine March 1961
Number 79 – Spring 2016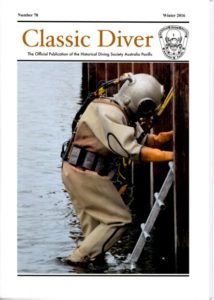 (Special 20th Annivrsary Issue)
President's Report
Editor, Jeff Maynard's, Introduction to the Special Edition
Letters
HDS Aus-Pac Conference Program
Portland: A retrospective by Steve Taylor with Des Williams
NAUI Helmet Diving Rally 2016 by Cathy Deane
Lustre Pealing Exhibition by Des Williams
Australiana Divers Timeline by Des Williams
Spearfishing in Australia by mel Brown
Clarry Ducker's Rebreather by Keith Gordon
Albert Mervyn (Mick) Olsen AM by Cathy Deane
Scientific Diving: A Background
DESCO and Morse by Bill Pelky and Ric Koellner
Abandon Craft! Dive Club Recovers Bomber Debris by Anne Simons
Sea Bee by Airdive by Peter McMahon
Venturi Breathing by Jim Ager (1970s reprint)
Reading the Past – A Brief Look at Australian Spear and Scuba Diving Magazines by Mel Brown
A Brief History of Dive New Zealand/Dive Pacific Magazines by Dave Moran
Profiles:
Barry Andrewartha
Peter Stone
Tom Byron
Jeff Maynard
Western Australian Diving Pioneers by Peter McMahon
Helmet Diving in the Pines, Mount Gambier S.A. as told to Cathy Deane by Con Penglis
Heavy Treasure by Steve Taylor
The Deep Sea Diver by Jeff Maynard
Number 80 – Summer 2016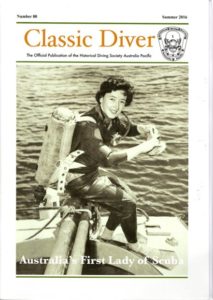 News
Our 20th Anniversary AGM by Des Williams
Ted Eldred Award Winner 2016 – Keith Gordon
Fremantle Ports Maritime Day 2016 by Peter McMahon
Robison Bros. & Co. melbourne by Steve Taylor
The Robison Goes Back in the Water by Stephen Roe
The White Heather by Phil Thurtle
Australia's First Lady of Scuba – Interview by Dave Bryant
Cold War – Cold Water by Robert Graham
Book Review – Oceaneer by Mike Hughes, reviewed by Christopher Swann
HDS Germany Conference 2016 by Peter Dick
2017
Number 81 – Autumn 2017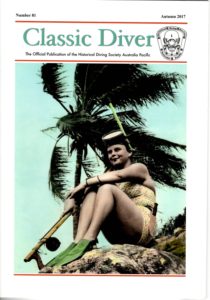 Australia's First Lady of Scuba?
President's Report
Coming Events
News
New Year Vintage Dive – Victoria
Russian IPSA Apparatus by Hans Joachim Richter, HDS Germany
Jean Webb – The First White Woman Diver in Papua? by Peter Stone
Diving the Klingert by Peter Dick
Reece Discombe by Peter Stone
Underwater Craft of the Special Operations Executive by Jeff Maynard
Number 82 – Winter 2017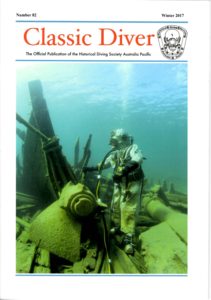 Annual General Meeting and Historic Tour 14-15 October advertisement
President's Report
Coming Events
News
Famous Names on HDS Aus-Pac Committee by Des Williams
Stephen Taylor wins 'Name a Dive Boat' contest
A Second Helmet Course in Melbourne by Steve Taylor
HDS Aus-Pac Display at OZTeK 2017
The Trials of a Working Diver – Gary Smith's Story as told to Allan Kessler
Diving Historic Shipwrecks in a MkV by Vincent Scarponi, photos by Peter Venoutsos
Interview: Graeme Roberts, Founding Board Member of HDS Aus-Pac by Cathy Deane
Book Review – Soviet Combat Divers in World War To by Des Williams
Commander Crabb – What Really Happened by John Bevan
Call for Nominations for the Ted Eldred Award