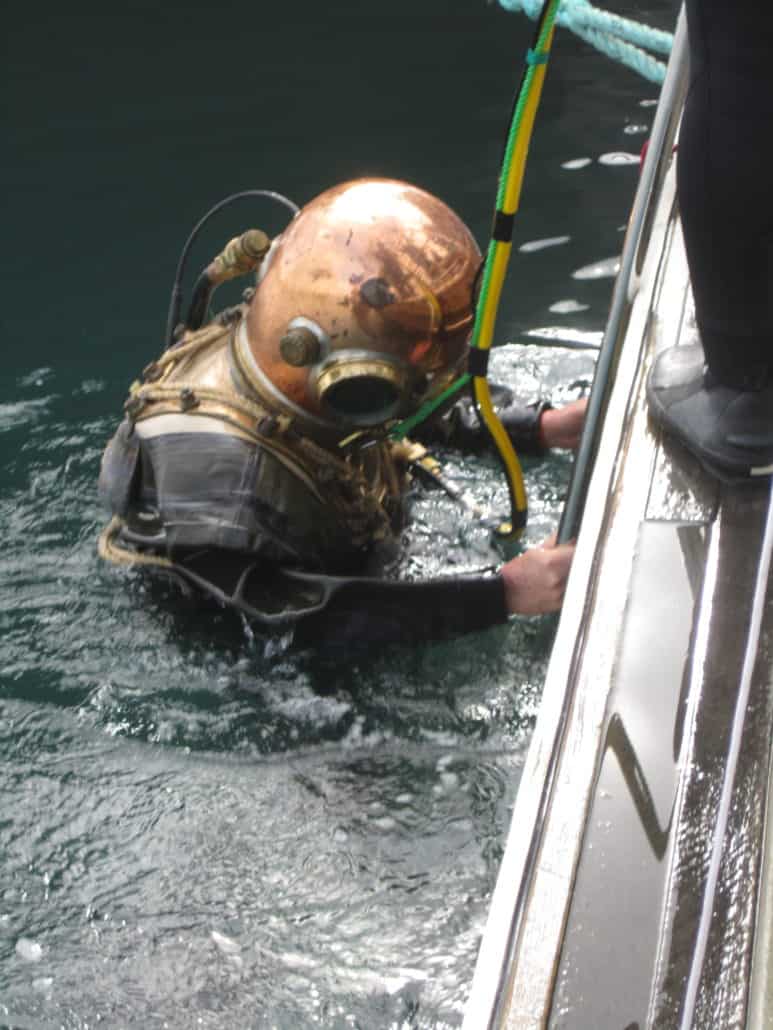 The 2017 NAUI Standard Dress Course and Rally sets record number of participants
Sixteen students took the course with almost all of them successfully completing it.  Due to a couple of problems one student will return next year to finish the course.
Meanwhile the rally was attended by approximately 30 divers.  That's a record number and with the large student contingent the number of attendees was the largest ever.
A big thank you to Frank Zeigler of Professional Diving Services (PDS) for hosting us again.  Thanks to all his staff that helped, especially Leslie Zelenc who was in charge of all the pre event organisation.  A big thanks to Steve Taylor who ran the class work again and some of the diving training.   Of course we couldn't do it without our safety divers who spend a long time in the cold water (it's the middle of winter in Australia for those overseas).
A highlight of the weekend was getting 2 Robison helmets back in the water.  The Robison is the only mass produced, Australian made helmet.  They were only made during World War II and the numbers were fairly small.  Leon Lyons was told only 75 were made.  HDS Aus-Pac's highest recorded number is in the high 40's.  Based on the Heinke Pearler they were not popular with the navy and other government organisations who ordered some of them.  While it's not known how long since one of them was dived it would be a significant time and great to see 2 in the water.
Picture: Diver in Robison helmet exiting the water after a successful dive.
http://www.historicaldivingsociety.com.au/wp-content/uploads/2017/05/IMG_3691-e1499994024998.jpg
4320
3240
Allan Kessler
http://www.historicaldivingsociety.com.au/wp-content/uploads/2016/11/HistoricalDivingSocietyLogo2.png
Allan Kessler
2017-05-16 02:06:49
2017-07-14 12:51:17
NAUI Standard Dress Course & Rally 10 - 12 June 2017